Fosgate wrote:
Snowy123 wrote:
The debate is largely whether which has contributed to
most
of Global Warming.
Contributed
significantly
will do. There's nothing magic about a majority.
Quote:
The evidence that natural factors are playing a larger role than anthropogenic factors, however, is overwhelming.
Alright, I'll play. Say they're larger. I'm back to the previous point. If a smaller contribution is still significant and that is what we are able to control, would we not attempt to control it simply due to the fact that there are more influential factors beyond our control?
Are you saying that the human impact is insignificant?
Significant is an extremely subjective term. Significant to some people could be 10%, while to others, it could not be significant.
Take a look at some of these peer reviewed studies, which show that the sun has a large impact on climate change:
Snowy123 wrote:
Let's start with nine peer reviewed studies that document that the sun was a likely driver of the 20th Century Warming.
Palle Bago and Butler 2001
Palle Bago and Butler 2001, using many formulas they derived in their earlier, 2000 paper, calculated that the solar effects, directly and indirectly, caused 0.5 Degrees C of the 0.55 Degree C warming. This means that they found that 91% of the warming over the past 100 years can be explained by solar variability, directly and indirectly alone. They mention that there is a "possibility" that solar attribution could be less during the most recent decades, but they are not definite with this statement. They simply state that the solar contribution an unknown over the last and most recent decades. This probably has to do with the ACRIM and PMOD TSI Composites and the controversy surrounding these datasets which Scafetta 2009 documents.
Georgieva et. al 2005
Georgieva et. al 2005 used the Geomagnetic AA Index to quantify the solar impact on Climate Change, rather than the sunspot number, because using the sunspot number to quantify the solar contribution to climate change, as many studies do, leads to an underestimation of the Solar impact on Climate Change.
The above figure from Georgieva et. al shows the Geomagentic AA Index with the broken line, and the Global Temperature Anomalies with the solid line. They find that the correlation coefficient between the AA Index and Global Temperatures is 0.85, meaning that the sun can explain 85% of the variances in temperatures over the last ~150 years.
Cliver et. al 1998
Cliver et. al 1998 also used the Geomagnetic AA Index to estimate the solar contribution to climate change.
Above figure: From Cliver et. al 1998. The AA Index is the dotted line, and the solid line are the temperature anomalies.
They found that 50-100% of the warming could be due to the sun, but it should be noted that this analysis does not include other factors like volcanic activity and anthropogenic greenhouse gas emissions when estimating the total contribution. Nonetheless, this study also shows that other studies which do include these factors are only at the lower end of the 50-100% range for the solar contribution over the last 100-150 years. It also supports other studies with a larger solar contribution to climate change because of the remarkable correlation with the AA Index and temperatures.
Solheim et. al 2012
Solheim et. al 2012 found that the solar signal is reinforced by the Atlantic Ocean, and this reinforcing signal in the Atlantic Ocean is calculated to be from 63-72% of the variances in temperatures over the entire timeframe. They get a lower solar contribution to land based stations, but the reinforced signal is probably what would lead to a more accurate solar contribution, since most of the world is covered by oceans, and likely, reinforcing the solar signals.
Link et. al 2011
The box that represents the % solar contribution from Link et. al 2011 actually represents the probability whether the entire trend over the last 100-150 years is natural. The authors calculate that the probability of the warming being caused by solar activity over this entire timeframe is 40-90%. It should be noted that these probabilities go up significantly over shorter timeframes like 1900-1950 and 1960-2005.
Scafetta and West 2008
Scafetta and West 2008 adresses the uncertainty raised in the first paper. If a TSI curve that shows an upward trend from Solar Cycle 21 to 22 is used from the ACRIM TSI composite rather than the flat PMOD TSI composite, then a higher contribution from the sun would be needed. The authors find that up to 69% of the variances in temperatures can be explained by solar activity.
The image above from Scafetta and West 2008 shows the divergence between the PMOD and ACRIM TSI datasets, which makes attribution to past climate change even harder. The red curve is the ACRIM TSI composite, the blue curve is the PMOD TSI Composite, and the black curve and green line are the Global Temperature anomalies.
Scafetta and West 2007
The ACRIM verses PMOD controversy continues in this paper. 50% or more of temperatures can be attributed to the solar forcing, depending if the ACRIM TSI composite is used or not. This further adds on to resolving the uncertainty between the PMOD and ACRIM datasets during the ACRIM Gap.
The graph above from Scafetta and West 2007 shows the excellent correlation between solar activity and temperatures. It also shows that a large portion of the warming can be attributed to solar activity. Over the last 30 years, a significant portion of the warming can be attributed to solar activity if the ACRIM TSI composite is used.
Ogurtsov 2007
Ogurstov 2007 estimated that the solar contribution directly and indirectly caused about 0.25-0.35 degrees C of the warming that took place during the 20th Century. Using the Skeptical Science trend calculator gives an approxiate warming of 0.6 Degrees C during the 20th Century. This means that 41-59% of the trend upward can be attributed to solar activity over the past 100 years.
Blanter et. al 2008
Blanter et. al 2008 found that temperatures correlated remarkably well for all periods between the solar activity indicies and the observed temperatures for stations in Europe and the United States during the 20th Century. They used a finding from a previous study that the temperatures at weather stations correlated remarkably well if they were up to a 1000 km distance from each other. They also state in the abstract that these changes can "possibly" be extended onto a Global scale. Being that they found that solar activity can account for all temperature changes over the 20th Century, I reduced the range slightly from 100% to somwhere in the 90-100% range to account for the anthropogenic forcings.
I will be posting more papers later on this thread that support a natural solar and oceanic cause for recent warming, and not anthropogenic.
Snowy123 wrote:
Humans have had more of an impact on climate change over the last 40 years than they have had over the last 150 years. This is primarily due to the sharp increase in Greenhouse Gas concentrations over the last 40 or so years. This means that not
all
of the warming over the last 40 years can be ascribed to natural causes.
With this in mind, we can start with
Borie and Thoyaib 2006.
The abstract reads:
Data for geomagnetic activity index aa and solar sunspot number Rz for 1868-2004 were subjected to
correlation analysis with the global surface temperature (GST). The annual-means GT show that it had
two warming phases and one cooling period. Observations of the Earth's near-surface temperature
showed a global-mean temperature increase of approximately 1.1° C since 1877, occurred from 1887 to
1940 and from 1970 to the 1998. The temperature change over the past 35 years (1970-2004) is unlikely
to be entirely due to internal climate variability. Attribution of the warming early in the century has
proved more elusive. The correlation analysis between the variation of global temperature and both aa
geomagnetics and solar activity are +0.5 ± 0.05, for any lag or lead, indicating a significant role in such
variation. All graphs have illustrated strong correlations between the solar activity and geomagnetics
and surface global temperature. Our results do not, by any means, rule out the existence of important
links between solar activity and terrestrial climate. Our results displayed that the present changes in aa
geomagnetics may reflect partially some future changes in the global surface temperatures.
From the conclusions:
The excess of aa geomagnetics led to excess
solar energy which stored and accumulated for few future
years in the near-Earth system, leading to the global
temperature variability. The running coefficients for the
late years (1873-1930) displayed only negative
remarkable role of solar activity or/and aa geomagnetic in
global temperature change (Figure 5b). On contrast, the
aa index and the sunspot number played, direct or
indirect, a great role in global cooling temperature
throughout four decades from 1931 to 1970. During the
period 1971-1998, the correlation between Rz and
temperature persisted positively. So, the sensitivity of
global temperature to aa geomagnetics is significant and
may be real.
Mufti and Shah 2011
The abstract and key points read:
A long uninterrupted homogeneous data set on the annual mean Sea Surface Temperature (SST) anomaly records as a representative of the Earth's climatic parameter has been analyzed in conjunction with 158 year long time series on the annual sunspot indices, Rz and geomagnetic activity indices, aa for the period 1850–2007.

The 11-year and 23-year overlapping means of global (δtg) as well as northern (δtn) and southern (δts) hemispheric SST anomalies reveal significant positive correlation with both Rz and aa indices.

Rz, aa and δtg depict a similar trend in their long-term variation and both seem to be on increase after attaining a minimum in the early 20th century

(∼1905). Whereas the results on the power spectrum analysis by the Multi-Taper Method (MTM) on δtg, Rz and aa

reveal periodicities of ∼79–80 years (Gleissberg's cycle) and ∼9–11 years (Schwabe solar cycle)

consistent with earlier findings, MTM spectrum analysis also reveals fast cycles of 3–5 years. A period of ∼4.2 years in aa at 99% confidence level appears recorded in δtg at ∼4.3 years at 90% confidence level. A period of ∼3.6–3.7 years at 99% confidence level found in δtg is correlating with a similar periodic variation in sector structure of Interplanetary Magnetic Field (IMF).

This fast cycle parallelism is new and is supportive of a possible link between the solar-modulated geomagnetic activity and Earth's climatic parameter i.e. SST.



--------------------------------------------------------------------------------


Research highlights


► Instrumental records of temperature anomalies analyzed in conjunction with sunspot, Rz and geomagnetic, aa indices. ► Significant positive correlation exists between Rz and aa when they are referred to long-term trends. ► Besides the 79 year and 11 year cycle the present investigation has also revealed fast cycle periods of 3–5 years in SST and aa. ► Geomagnetic activity could be a possible link through which solar activity may influence the Earth's climate. ►

The Sun has a significant role to play in the long-term and short-term climate change.
Raspopov et. al 2007
Found that long term trends in solar activity can create SIGNIFICANT temperature changes. A substantial lag can also occur with the sun and the temperature on the Earth, which would refute your earlier logic that just because the sun's irradiance according to PMOD has flatlined, does not bmean that it has not contributed to the recent warming. They also find that recent warming from 1945-2003 matches with expected predictions from a long term increase in solar activity.
From the abstract:
The influence of ∼200-year solar activity variations (de Vries cyclicity) on climatic parameters has been analyzed. Analysis of palaeoclimatic data from different regions of the Earth for the last millennium has shown that

∼200-year variations in solar activity give rise to a pronounced climatic response.

Owing to a nonlinear character of the processes in the atmosphere–ocean system and the inertia of this system, the climatic response to the global influence of solar activity variations has been found to have a regional character. The regions where the climatic response to long-term solar activity variations is stable and the regions where the climatic response is unstable, both in time and space, have been revealed.

It has also been found that a considerable lag of the climatic response and reversal of its sign with respect to the solar signal can occur.

Comparison of the obtained results with the simulation predictions of the atmosphere–ocean system response to long-term solar irradiance variations (T > 40 years)

has shown that there is a good agreement between experimental and simulation results.
Fig. 2. (a) Results of simulation of the spatial distribution of surface temperatures when the atmosphere–ocean system is affected by long-term solar irradiance variations (T > 40 years) (Waple et al., 2002). The asterisk (the North Atlantic region) and crosses show the sites the climatic data for which were used in our paper; (b) variations in annual average temperatures in the Northern Hemisphere for 1954–2003.
The sun's activity began to rise in 1900, according to this paper also by
OM Raspopov et. al
.
Which Raspopov and Dergachev
found was a 'controlling factor' in 20th Century warming.
Yu 2002
found that great uncertainties still remain with GCRs and climate, and more research needs to be done to quantify these uncertainties.
Kilcik 2005
It is a clear fact that the Earth's climate has been changing since the pre-industrial era, especially during the last three decades. This change is generally attributed to three main factors: greenhouse gases (GHGs), aerosols, and solar activity changes. However, these factors are not all-independent. Furthermore,

contributions of the above-mentioned factors are still disputed.

We sought whether a parallelism between the solar activity variations and the changes in the Earth's climate can be established. For this, we compared the solar irradiance model data reconstructed by J. Lean to surface air temperature variations of two countries: USA and Japan. Comparison was carried out in two categories: correlations and periodicities. We utilized data from a total of 60 stations, 18 in USA and 42 in Japan. USA data range from 1900 to 1995, while Japan data range from 1900 to 1990.



Our analyses yielded a 42 per cent correlation for USA and a 79 per cent for Japan between the temperature and solar irradiance. Moreover, both data sets showed similar periodicities. Hence, our results indicate marked influence of solar activity variations on the Earth's climate.
Kilcik et. al 2010
By applying multitaper methods and Pearson test on the surface air temperature and flare index used as a proxy data for possible solar sources of climate-forcing, we investigated the signature of these variables on middle and high latitudes of the Atlantic–Eurasian region (Turkey, Finland, Romania, Ukraine, Cyprus, Israel, Lithuania, and European part of Russia).

We considered the temperature and flare index data for the period ranging from January 1975 to the end of December 2005, which covers almost three solar cycles, 21st, 22nd, and 23rd.





We found significant correlations between solar activity and surface air temperature over the 50–60° and 60–70° zones for cycle 22, and for cycle 23, over the 30–40°, 40–50°, and 50–60° zones.



The most pronounced power peaks for surface air temperature found by multitaper method are around 1.2, 1.7, and 2.5 years which were reported earlier for some solar activity indicators. These results support the suggestion

that there is signature of solar activity effect on surface air temperature of mid-latitudes.
Fig. 1. Eleven year running mean sunspot numbers and departures of sea surface temperatures from the long term mean (units hundredths of a degree Celsius). The coherency between the solar activity and climate records can be seen in this figure comparing polynomial fits to the sunspot record and the global mean sea-surface temperature SST (Reid, 1999).
In Figure 4 of
Dorman 2012
, it can be seen that GCRs can explain pretty much all temperature variability from 1937-1994.
Carslaw et. al 2002
This paper shows that there is a long term decrease in GCRs over the 20th Century, which would correspond to a more active sun, as this would mean that there would be more solar wind to prevent GCRs from reaching Earth. It is also shown that in 1992, a record low in GCRs was recorded, indicating record high amounts of solar activity occured during the late-20th Century.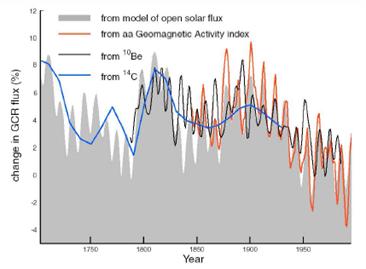 Soon et. al 2011
:
(From the abstract:)
The 20th century surface air temperature (SAT) records of China from various sources are analyzed using data which include the recently released Twentieth Century Reanalysis Project dataset. Two key features of the Chinese records are confirmed: (1) significant 1920s and 1940s warming in the temperature records, and (2) evidence for a persistent multidecadal modulation of the Chinese surface temperature records in co-variations with both incoming solar radiation at the top of the atmosphere as well as the modulated solar radiation reaching ground surface. New evidence is presented for this Sun–climate link for the instrumental record from 1880 to 2002. Additionally, two non-local physical aspects of solar radiation-induced modulation of the Chinese SAT record are documented and discussed.

Teleconnections that provide a persistent and systematic modulation of the temperature response of the Tibetan Plateau and/or the tropospheric air column above the Eurasian continent (e.g., 30°N–70°N; 0°–120°E) are described. These teleconnections may originate from the solar irradiance-Arctic–North Atlantic overturning circulation mechanism proposed by Soon (2009). Also considered is the modulation of large-scale land–sea thermal contrasts both in terms of meridional and zonal gradients between the subtropical western Pacific and mid-latitude North Pacific and the continental landmass of China. The Circum-global teleconnection (CGT) pattern of summer circulation of Ding and Wang (2005) provides a physical framework for study of the Sun–climate connection over East Asia.

Our results highlight the importance of solar radiation reaching the ground and the concomitant importance of changes in atmospheric transparency or cloudiness or both in motivating a true physical explanation of any Sun–climate connection.

We conclude that

ground surface solar radiation is an important modulating factor for Chinese SAT changes on multidecadal to centennial timescales. Therefore, a comprehensive view of local and remote factors of climate change in China must take account of this as well as other natural and anthropogenic forcings.
Tinsley et. al 2009
find that the CRF (Cosmic Ray Forcing) is a likely climate driver, and find that it needs to be represented in the models, since it has a very important role in climate change.
Belov et. al 2005
A method of prediction of expected part of global climate change caused by cosmic ray (CR) by forecasting of galactic cosmic ray intensity time variation in near future based on solar activity data prediction and determined parameters of convection-diffusion and drift mechanisms is presented. This gave possibility to make prediction of expected part of global climate change, caused by long-term cosmic ray intensity variation. In this paper, we use the model of cosmic ray modulation in the Heliosphere, which considers a relation between long-term cosmic ray variations with parameters of the solar magnetic field. The later now can be predicted with good accuracy. By using this prediction, the expected cosmic ray variations in the near Earth space also can be estimated with a good accuracy. It is shown that there are two possibilities: (1) to predict cosmic ray intensity for 1–6 months by using a delay of long-term cosmic ray variations relatively to effects of the solar activity and (2) to predict cosmic ray intensity for the next solar cycle. For the second case, the prediction of the global solar magnetic field characteristics is crucial. For both cases, reliable long-term cosmic ray and solar activity data as well as solar magnetic field are necessary. For solar magnetic field, we used results of two magnetographs (from Stanford and Kitt Peak Observatories). The obtained forecasting of long-term cosmic ray intensity variation we use for estimation of the part of global climate change caused by cosmic ray intensity changing (influenced on global cloudiness covering).
Climate Change can be forecasted based off of the predictions for the GCR Flux. Given how closely the model represents reality as shown in Figure 3, it is hard to discount their predictions of cooling in the near future due to an increasing GCR Flux.
In my next post I will have a compliation of peer reviewed papers that predict a cooling in the next couple to few decades.
The human impact on climate should be kept at a minimum, but human impact does not necessarily mean GHGs, it also pertains to deforestation and urbanization.
But, people who claim that
most of the warming can be attributed to anthropogenic greenhouse gases
have
ZERO
evidence to back themselves up.