Wayne Stollings wrote:
Where short term prediction is the goal ..... the long term climate prediction, however, is less of a problem.
One of the authors in the paper points out
that unusual pulses of warm Atlantic water have been playing a major role in ice depletion in the Arctic, which can be associated with the record +AMO we saw this melt season.
Quote:
"One prominent researcher, Igor Polyakov at the University of Fairbanks, Alaska, points out that pulses of unusually warm water have been entering the Arctic Ocean from the Atlantic, which several years later are seen in the ocean north of Siberia. These pulses of water are helping to heat the upper Arctic Ocean, contributing to summer ice melt and helping to reduce winter ice growth.

Another scientist, Koji Shimada of the Japan Agency for Marine-Earth Science and Technology, reports evidence of changes in ocean circulation in the Pacific side of the Arctic Ocean. Through a complex interaction with declining sea ice, warm water entering the Arctic Ocean through Bering Strait in summer is being shunted from the Alaskan coast into the Arctic Ocean, where it fosters further ice loss. Many questions still remain to be answered, but these changes in ocean circulation may be important keys for understanding the observed loss of Arctic sea ice."


And the record +AMO can clearly be seen in the data.
With the AMO reaching record positive states, it is unusual IMO that 2011 did not see the lowest extent recorded this melt season.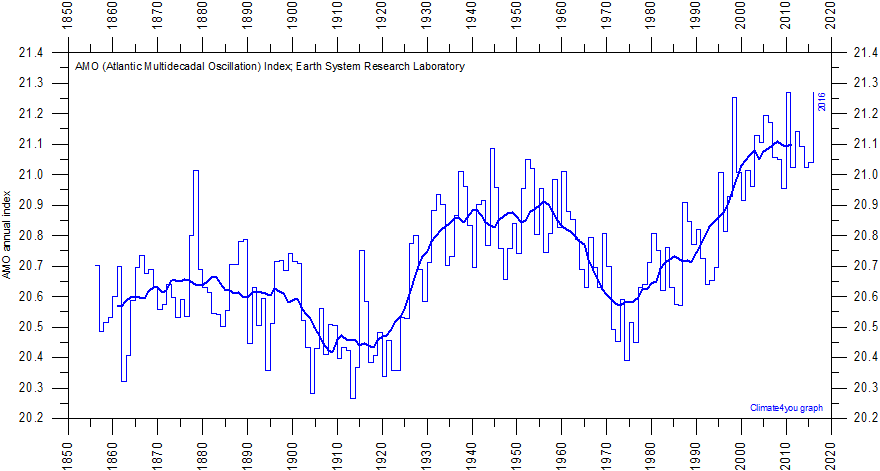 Chylek et. al
clearly demonstrates that there is a strong relationship with the AMO and the Arctic Temperatures.
From the abstract:
Quote:
Understanding Arctic temperature variability is essential for assessing possible future melting of the Greenland ice sheet, Arctic sea ice and Arctic permafrost. Temperature trend reversals in 1940 and 1970 separate two Arctic warming periods (1910–1940 and 1970–2008) by a significant 1940–1970 cooling period.
Analyzing temperature records of the Arctic meteorological stations we find that (a) the Arctic amplification (ratio of the Arctic to global temperature trends) is not a constant but varies in time on a multi-decadal time scale,
(b)
the Arctic warming from 1910–1940 proceeded at a significantly faster rate than the current 1970–2008 warming,
and (c)
the Arctic temperature changes are highly correlated with the Atlantic Multi-decadal Oscillation (AMO) suggesting the Atlantic Ocean thermohaline circulation is linked to the Arctic temperature variability on a multi-decadal time scale.
It is the AMO that is the main temperature driver in the Arctic Basin, and plays a role in Global Temperatures as well.