Wayne Stollings wrote:

It could be the case, especially since there was a move to reduce particulate and other emissions that would offset the GHG forcing.

And it could also be the sun that was causing this lull, since it's activity was relatively constant during this timeframe.
We can keep on going in circles if you would like.
Quote:
The mid-century problem with emissions could be a significant factor.

And so could the sun, and you would not need to invoke another mechanism to explain this period.
Quote:
If memory serves on one of your new favorite authors papers the correlation was tweaked to make the match up fit.

Which paper?
Quote:
Which "the" models would those be?

The models
the IPCC used
in their report. This graphic shows the simulated forcings of TSI, Volcanism, Well mixed GHGs, ozone, aerosol and the sum of all of the forcings combined. Note that the Greenhouse Signature as PREDICTED by the models looks TOTALLY different than if it were forced by the sun.
Quote:
Figure 9.1. Zonal mean atmospheric temperature change from 1890 to 1999 (°C per century)
as simulated by the PCM model
from (a) solar forcing, (b) volcanoes, © well-mixed greenhouse gases, (d) tropospheric and stratospheric ozone changes, (e) direct sulphate aerosol forcing and (f) the sum of all forcings. Plot is from 1,000 hPa to 10 hPa (shown on left scale) and from 0 km to 30 km (shown on right). See Appendix 9.C for additional information. Based on Santer et al. (2003a).
So the Greenhouse signature is UNIQUE according to this IPCC graphic, and we SHOULD see more warming occur in the mid to upper troposphere than at the surface.
Other models have the SAME exact signature for GHG warming, with an area in the mid to upper troposphere in the Tropics warming faster than everywhere else.

Unfortunately for the GHG theory, temperatures in this area in the mid to upper troposphere in the Tropics have remained relatively constant as surface temepratures increased.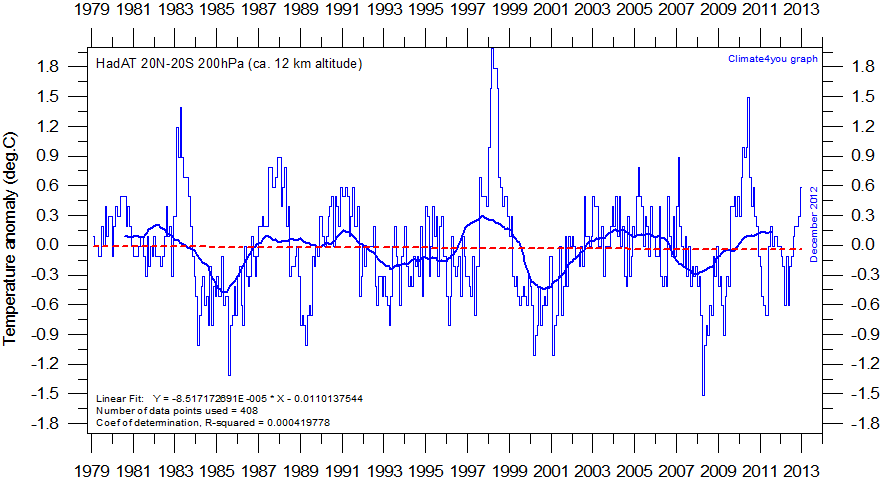 This means GHGs are not the cause of the recent warming, since the Greenhouse signature portrayed in the IPCC models is not present in reality.