warmair wrote:


On the other hand there are numerous positive feedbacks. Particularly that higher temperatures increase the amount of water vapour in the air (7% per 1 deg C) which is again a stronger GHG than CO2. Loss of ice cover over the sea changes the surface from reflecting 90% of the radiation to absorbing in excess of 80%.
Higher temperatures of themselves also increase the amount of carbon based GHGs in the atmosphere EG forest fires, increased methane emission's from tundra and peat areas


None of these positive feedbacks have actually been proven or observed, actually. If the net atmospheric feedbacks are negative, then the positive snow-albedo feedback would not be quite as great. With sea ice declines over the Arctic, you get more cloud cover, resulting in a negative feedback over the Arctic.
It has been observed that the climate system emits more OLR at a rate that is greater than a black body and is greater than the climate models, suggesting negative cloud feedback and neutral water vapor feedback.
The models had the greatest warming at 200-300 hPa, which is associated with a negative lapse rate feedback, as the upper troposphere in the models is warming faster than the surface.Once again, according to observations, we can see that there is a serious discrepency between the models and the observations at various locations in the upper troposphere.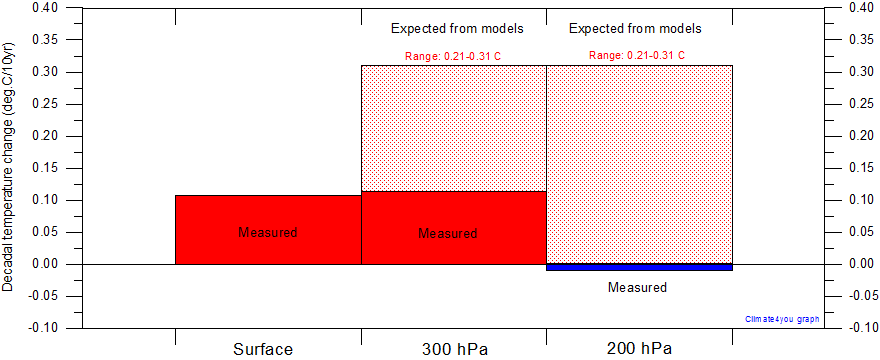 If you think that Climate4you.com is cherry picking by selecting the HatAT dataset, look at Douglass et. al 2007, which has 3 MORE datasets that show that there is a serious discrepency between modeled and observational temperatures in the Tropical Troposphere.
The figure, from Douglass et. al 2007 (Source:
http://scienceandpublicpolicy.org/image ... _wrong.pdf
) shows that the models were predicting a negative lapse rate feedback, which is seen with the higher temperature trend in the middle to upper troposphere than at the surface. Observations do not show any of this. They show that the lapse rate is positive, and that the surface is warming faster than the upper troposphere, consistent with a positive lapse rate feedback. The strongest negative lapse rate feedbacks in the IPCC GCMs were constantly associated with a the strongest positive water vapor feedbacks. The relationship between the two appears to be robust, so the lack of a negative lapse rate indicates that the water vapor feedback might not be positive, and even negative.
Or the fact that humidity levels are remaining constant as temperatures increase, as seen with Wang et. al 2008
And Sun et. al 2008 which finds that the negative cloud albedo feedback during ENSO events has been underestimated in climate models, and that the positive water vapor feedback in models ha been overestiamted.
http://journals.ametsoc.org/doi/abs/10. ... HistoryKey