Wayne Stollings wrote:
Since homicides and attempted homicides have been decreasing since 2001/2, it is hard to imagine there is such a huge increase in gun related deaths.
http://www.guardian.co.uk/news/datablog ... land-wales
551 homicides (includes murder, manslaughter and infanticide) were reported in 2011/12, a considerable drop on the previous year's total of 638. Homicides are now down to around half of the figure for 2001/2.
Attempted murders also fell, but by a smaller proportion, dropping by 7.6% in comparison to a fall of 13.6% in homicides.
Well, golly gee whizz, turns out you're right. Something I found doing a quick check on that was really curious. In this article it says....
Quote:
Officials said the fall in homicide figures was not unique to England and Wales and there had been reductions in Europe, Asia and North America since the mid 1990s.
http://www.bbc.co.uk/news/uk-18900384
So I went to verify that and...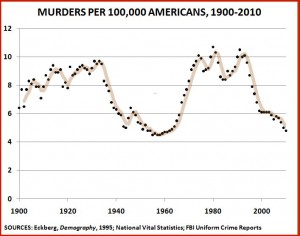 Quote:
The puzzle compounds. We see a roughly cyclical pattern: a high plateau in the 1920s and early 30s; a rapid drop of more than half to a low point in the late 1950s; then, a sharp rise, more than doubling, by 1980 and 1990. That's followed by what will probably be a drop of about half by 2010. These are huge swings.
http://thepublicintellectual.org/2011/05/02/a-crime-puzzle/
So, the decline in homicides in both the UK and the US have dropped. Guess you can't attribute that to gun control in one locale and the lack there of in another.