Deb
Further to the above I grew up on the west coast of coast of Ireland where the winds typically blew from the west. The sky when it was not raining was a brilliant blue, except on the rare occasions when the wind blew from the east and then we got all the industrial smoke and muck from the UK and Europe which resulted in the air gradually getting worse and worse, that was nearly 50 years ago. On the last occasion when I went over too Europe I noticed a continuous haze of pollution that most people seemed to regard as normal.
This site will allow you to track the pollution in your area.
If you think that your area is bad spare a thought for the people who live in Beijing where the the level of pollution is so bad at times that is off the scale of the equipment to measure.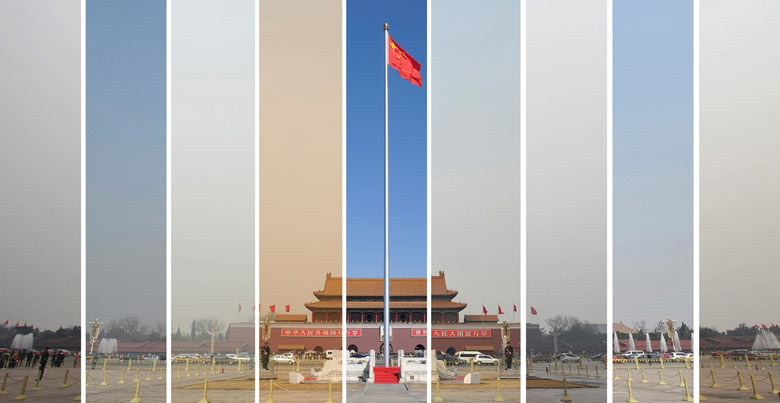 From left to right, air pollution over Tiananmen Square on March 6, 7, 8, 9, 10, 11, 12, 14 and 15, 2013
It is also worth pointing out that the atmosphere is typically divided up into the boundary layer which is where most of the weather occurs and higher layers. The boundary layer is typically turbulent and provides good mixing of the atmosphere. Above this layer the air is typically stable and vertical mixing is very slow. Con trails normally occur well into the stratosphere (a stable layer) where anything sprayed of small droplet size would take days, and possible weeks to reach the surface. Next time you see a shaft of light notice how slowly the dust descends, and bear in mind that the size of droplets sprayed from a jet aircraft would have to be much smaller just to achieve any appreciable amount of coverage.