Milton Banana wrote:
Wow. Must have really hit a nerve.
A legend in your own mind?
Quote:
How do I know when I've done a good job?
1. When Wayne does one of his classic line by line breakdowns.
2. When more ad hominem attacks are hurled my way.
How will we ever know when you finally understand what an ad hominem is?
Quote:
Marcott et al? The new hockey stick? When the old hockey stick has been discredited we will just do another?
Which old hockey stick would that be? There were about one per year from different papers and different authors through the first decade of this century.
Quote:
Even if I took this study at face value its only recorded a .8 degree increase. They can't even get a full degree out of the stroking of the data? Your scientists aren't very good are they. This is the same old trick of tacking on a completely different methodology at the end of the study along with a proxy study. One or the other. Marcott did the same as Mann and look another hockey stick. Isn't that just precious.
You are really uneducated in science aren't you? Why would you propse using any proxy measurements when instrument data is available? Instrument data is only available back so far, so proxy and instrument data have to be merged if one wishes to look at modern data compared to anything else.
Quote:
Now let's have a look at another study. One that involve empirical data.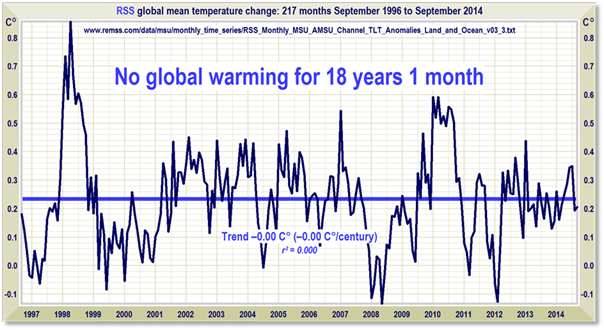 This study represents measurable data done with state of the art satellite systems. Now satellite do have problems. They have to be calibrated just like any other device that measures. This is not a simulation. Not a computer model. Not a proxy study.
MEASURABLE DATA!!!
And the biggest problem with the satellite data is that is tracks with the surface data Milton claims is manipulated or fabricated. Thus either Milton is lying through his teeth about the accuracy of the two or he is completely clueless about science. Either option seems equally probable at this point.
_________________
With friends like Guido, you will not have enemies for long.
"Intellect is invisible to the man who has none"
Arthur Schopenhauer
"The difference between genius and stupidity is that genius has its limits."
Albert Einstein